Movies From the Past:
When it comes to fashion, nothing beats vintage but when it comes to cinema, nothing compares with classics that culminated the
Golden Age of Hollywood into whatwe cherish today as golden masterpieces!
Be it their unique style, exceptional rendition, acting from some of the thespians of American cinema, or flawless cinematography – the quality of classics
remains unmatched to date even after advancements have been made in technology. Watching a classic being screened is an experience
worth raising goosebumps by the sheer magnificence and excellence of that make. However, millennials are not able to thoroughly bathe in the
splendor of classics in their time because of some setbacks.It is either because of the unavailability of rare movie titles or due to generational disparities in
classic movies that make them unrelatable for modern audiences.
Even though movie buffs have found a path reaching back to the era in which these cinematic renditions were born, not everyone
has the ability ortaste to enjoy classics for the masterpieces they are! To cater to such audiences, directors have taken on the responsibility of remaking some classics to better satiate the
present demand. Although not all patrons and connoisseurs appreciate the effort because of their reverence for the original, some remakes have really
been commendable attempts at recapturing the golden past of cinema.
Here are a few examples of contemporary tributes to relics of the past.
12 Angry Men: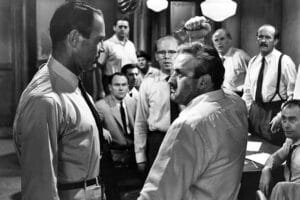 Borrowing the idea from 1957's classic piece: 12 Angry Men which was directed by Sidney Lumet, Nikita Mikhalkov's '12' is an exceptionally performed remake. Released in 2007,
this movie starred Sergey Makovetskiy, Sergey Garmash, Alexei Petrenko, and Yuriy Stoyanov.
Based originally on Reginald Rose's story, this movie offers a nerve-wracking plot that revolves around 12 jurors who take the entire length of the movie to come
to a decision about an alleged murderer.
Ocean's Eleven:
 This is a 2001-American heist film that reproduced the 1960 Rat Pack production of the same name directed by Lewis Milestone. George Clooney excellently fills the shoes
ofFrank Sinatra's role as Danny Ocean in this movie directed by Steven Soderbergh.
The gang of 11 men starring in this movie serves justice to the original plot which was released in 1960, making it an entertaining
piece in the genre of action and drama.
Scent Of A Woman:
Remaking the French classic Profumo Di Donna (1975) by Dino Risi, Martin Brest's Scent of A Woman is a well-deserved remake that
paved the way for the exceptional star— Al Pacino— to his first Academy Award!
The mismatched duo of Pacino and Chris O'Donnell harmonized in the perfect blend of beauty and contrast in the way this movie
offered its gratitude to the Italian predecessor.
Classic Movies Etc is a Chicago-based agency providing rare movie titles straight from the archives of the film industry. We serve an exclusive audience ofclients and
private movie collectors who have a taste for the priceless productions in our collection! We offer classic movies on DVD and copiesof rare cult productions on sale,
many of which are hard to find. To get your hands on one of these gems contact us now!